If you search on Google "double door container" , it may show multiple search results on the screen which may be difficult to understand. But whether you're looking for more information about double-door containers or want to get some of these boxes, we're your go-to source. So let's get started easily.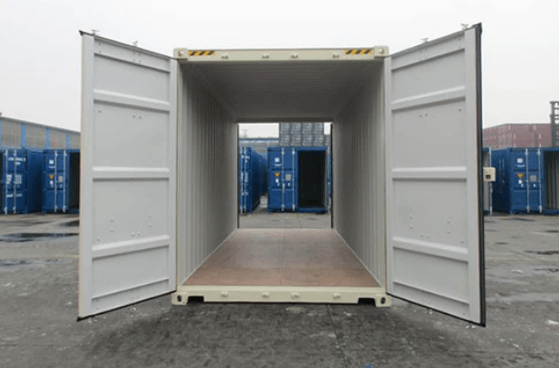 There is yet another modified version of the standardized ISO container, the double door container. As the name implies, there are double doors on both ends of the container. That way, the shorter the container, the more it acts like an entry point and an exit point.
These doors also have the nicknames "Tunnel Container" and "Tunnel Tenor" on the container. When you open all the doors, the container looks like a tunnel. It's smart
But what makes it even smarter is that this "tunnel" feature makes it easier to load and unload cargo. This is especially useful if you have items that need to be loaded from two different sides of the container at the same time.
What is Side Door Containers ? Uses and Dimensions
Double door container
The same twin double door container as a standard dry container has two doors at each end instead of one. These containers are made of durable materials such as steel and aluminum and can be used as cube containers with heights of 20 feet, 40 feet and 40 feet.
If you need to put two types of products in the same container, a double door container is the best choice. That is, you can access it from two ends at the same time. This makes loading and unloading and sorting of products easier and more flexible. It can also be reused as a general dry container by completely closing one of the doors.
Dimensions: Double door container
All containers are created according to the standard size set by the International Organization for Standardization (ISO). Double door containers are available as cubes with heights of 20 feet, 40 feet, and 40 feet. The internal measurements and capacities of these containers are as follows:
| | | | |
| --- | --- | --- | --- |
| Measure | 20ft DD | 40ft DD | 40ft High Cube DD |
| Internal length | 5.89 m / 19.3 ft | 12.03 m / 39.5 ft | 12.03 m / 39.5 ft |
| Internal width | 2.34 m / 7.8 ft | 7.8 ft/2.34 m | 2.34 m / 7.8 ft |
| Internal height | 2.38 m / 7.9 ft | 2.38 m / 7.9 ft | 2.69 m / 8.9 ft |
| Tare weight | 2,700 kg / 5,950 lbs | 4,700 kg / 10,362 lbs | 5,200 kg / 11,470 lbs |
| Payload capacity | 27,780 kg / 61,244 lbs | 27,300 kg / 60,180 lbs | 28,600 kg / 63,052 lbs |
| Cubic capacity | 33.0 m3 / 1,165 ft3 | 65.3 m3 / 2,306 ft3 | 76.3 m3 / 2,694 ft3 |
How much can it fit in a 40-foot double door container in terms of volume?
380 large trees or 470 standard packing boxes. Or four two bedroom house items. Or about 50 tons of rice!
However, to simplify things with standard size, the European pallet size (1.2mx 0.8m) allows you to fit 30 pallet stacks in a cube container with a height of 40 feet side doors. For an American pallet (1.01mx 1.21m), it fits in a stack of 25 pallets.
Use of double-door container
Double-door containers are used to transport all types of general dry cargo, bulk cargo, special cargo, etc. They are especially used for transporting motorcycles, cars and snowmobiles because they allow vehicles to be easily loaded and unloaded from one end. .. These containers are centrally partitioned, allowing two different shippers to have space at the same time without mixing the cargo.
However, it works widely in domains other than shipping.
Best Ecommerce Shipping Strategy that Will Work for Your Startup
These containers are used as ad hoc tunnels to provide a secure passageway from one location to another. Therefore, they are also called tunnel tenors. You can also line up several double door containers to form a tunnel. They are especially used at construction sites because of their safety, durability and ease of installation.
Double-door containers are also very convenient when moving around the house. Items can be loaded and unloaded from both ends, making the entire process faster and easier. The double doors make it easier to sort products later, so they can also be used by business owners to store excess inventory.
Read : Different Types of Container Chassis – Learn More
Recently, these containers have also been remodeled and remodeled as residential and office spaces. These containers have proven to be cost effective and faster options, as double doors are easier to remove and customize the original wall from the container.