CSC Plate , what information it contains in container ?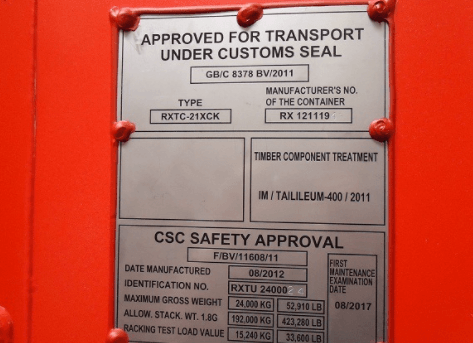 All containers used for international shipping require a valid CSC plate to ensure good condition for safety reasons. When Malcolm McLean invented a standardized freight container, there was nothing to regulate the safety of container logistics. The International Maritime Organization (IMO) has conducted a survey to investigate the safety of containerization in more detail as the number of containers increases year by year.
The container itself has emerged as the most important safety reason for the people around it, leading to the creation of the Safety Container Convention (CSC) by the United Nations and the IMO in 1972, providing transportation and logistics and providing standards. Promote international container transportation. Currently, all containers used for international freight transport require valid CSC approval. It doesn't matter if it's a COC container or a SOC container. Without a valid CSC plate, equipment for international maritime transport cannot be moved.
What information does the CSC plate have?
All shipping containers used for international ocean shipping require a valid CSC plate bolted to the outside of the left door. It must take the form of a permanent, non-corrosive, refractory rectangular plate of at least 20×10 cm. Each plate that is fixed during manufacture must contain a specific level of information in English or French (see figure below) and is durable in a color that contrasts with one of the containers. The word "CSCS AFETY APPROVAL" is prominently placed in the center of all plates, alongside the country of approval and reference number. Additional information is as follows:
Csc plate inspection: PES and ACEP
The inspection process includes testing, maintenance, and inspection itself in accordance with CSC regulations. Manufactured containers must obtain an approval plate. Regulations stipulate that containers should be inspected at intervals suitable for operating conditions.
The standards that apply to safety inspections are those agreed between the government of the State party and the owner / operator of the container. There are two container inspection schemes that can be applied to CSC plate inspection: periodic inspection scheme (PES) and ACEP, which stands for approved continuous inspection scheme. APEC schemes are actually more common, but both inspection schemes ensure that the container is maintained at the required level of security and can therefore be considered equivalent.
Csc plate inspection at empty container depot
Periodic Inspection Scheme (PES) is a unique approach currently commonly used by small businesses and requires the CSC plate to display the "Next Inspection Date" or "NED". The first test shall be performed for less than 5 years and then at intervals of less than 30 months.
Containers operated by ACEP should be inspected, at a minimum, appropriately and regularly, within the intervals required by PES, as part of normal operation. ACEP is currently used by most container owners and operators for the following reasons:
More consistent inspection with established inspection procedures
ACEP inspections are not scheduled to be triggered, which improves the condition of the container in operation and does not cause minor damage to the container during the 30 months between inspections compared to PES.
No need to update CSC plate
Why are container safety standards so important?
CSC plates are only valid if the container is in good condition. If it is damaged during service or becomes unsafe, the owner must respond accordingly. Authorized agents can decommission the container if it is damaged. If the container causes damage or injury, it is the owner's duty to prove that all precautions have been taken to prevent such damage. To avoid such cases, it is recommended that a surveyor inspect the container before and after shipping.