Defining a good shipping strategy for an online store can become a real headache when trying to balance reliability, delivery time, shipping preferences, geographic coverage, costs, resolution of incidents and more.
Online shopping has become in a very short time a growing alternative to make our purchases, from the comfort of our sofa or where the need or temptation surprises us, we can acquire all kinds of products and services in an instant and receive them in our address in a few hours or at least, that is what we all want to happen, although there are many times that delays and unforeseen events surprise our shipments.
At present, not even the most important online company is exempt from having a problem when making each of its shipments. It may happen that it is the most cutting-edge company in the technological field and appeal to the most innovative gadgets such as the use of drones, but until teleportation is invented like the one used in the Star Trek saga, they will be distribution companies with their respective messengers. of flesh and blood those that continue, for the moment, delivering our orders made in any of the online stores in the market.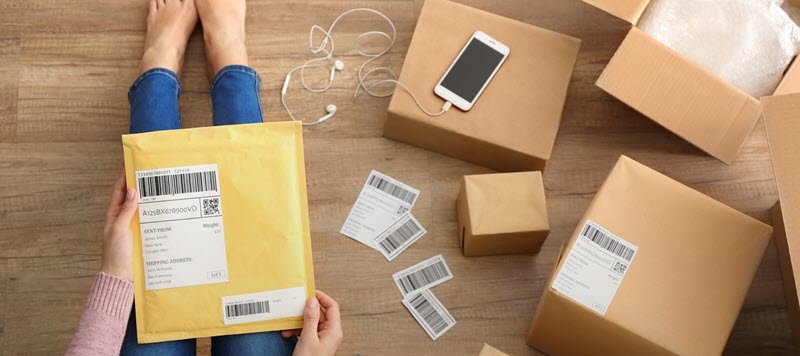 Shipping Strategy Dependencies
Our shipping strategy will depend on a combination of a number of factors, among them we can find:
New brand or brand with a certain accumulated prestige.
Client's profile.
Kind of product.
Geographical area from where shipments are made.
Geographic area where shipments are made.
Place of delivery, physical store, address or collection points.
Preferences in delivery, morning, afternoon, night, specific time, weekdays, holidays or indistinct in terms of day and time.
Average value of each of the orders.
Average profit margins of the products.
Available means of payment.
Average weight of products.
Average volume of products.
Average number of shipments.
Characteristics and preference of follow-up of the orders in relation to the insurance of the same.
Order advance information preferences available to the user.
Preferences regarding incident management.
Return Policies.
Preferences in choosing a logistics partner.
Product costs.
Average delivery time.
Packaging preferences.
Product restrictions and regulations.
Customs management in the event that we make international shipments.
Alternative Shipping Strategies
Depending on the size and the moment an online store is located, we can choose between different types of shipments:
When starting an online business, it is common for both packaging and labeling with customer data to be done manually and the packages are transported in person to the office of the company that will carry out the distribution. Regarding the follow-up, it will be carried out in a personalized way with a direct contact with the client.
When the online company reaches a certain size, labeling with customer data is automated, packaging is done manually and the distribution company is requested to collect all packages, to be distributed to customers with the respective follow-up of deliveries. Monitoring is automated and incidents are managed manually, trying to optimize the incident rate with respect to the number of deliveries.
When the online store reaches a certain size of business volume, orders are centralized and generally distributed from different warehouses strategically located according to delivery areas, both packaging and labeling are automated with customer data and specified with different distribution companies, according to geographical areas, collection times in warehouses for distribution and automated monitoring of each of the deliveries. Both the monitoring and the management of incidents is fully automated with strict control of the incident rate in relation to deliveries.
It may happen that shipments are managed directly by our supplier under our brand, this particular distribution strategy is called drop shipping. This strategy has great advantages in terms of reducing investment in inventory products, although it entails the possibility of some lack of control regarding shipments with possible customer dissatisfaction, follow-up efforts must be redoubled in order to solve the instantly any type of incident.
Shipping Evolution
At the beginning of the life of an online store, the volume of business is relatively small and therefore the number of daily shipments is low. Over time, it is normal for there to be a constant growth in the volume of orders, so the number of shipments will increase directly. In the life of an online business we can distinguish different stages:
Launch: it coincides with the initial moment of the online business, in this scenario, it is normal to receive occasional orders that do not define any sales pattern and there is no notion of consistency in terms of the evolution of the business.
Consistency: at this point, the volume of business is consolidated and we can know in advance, the approximate number of orders that customers will make. At this stage, daily, weekly and monthly orders are limited but can be predicted since they have a certain degree of regularity.
Growth: it is the stage of the business in which the order orders that are generated are handled in an automated way. At this point, inventory management, packaging, labeling, shipping, and tracking are fully automated. At this point there is a great need for all kinds of new services, trying to optimize all business operations. The volume of business grows notably, which intensifies the need to implement solutions in very short terms, the management of shipments becomes a critical issue that will require a significant effort so that the volume of sales continues to rise.
Infrastructure: the growth in business volume has reached such a point that it demands a growth of the company's infrastructure. The number of orders is very high and investment in a number of new facilities is necessary to cope with the new sales volumes. At this point we will make the decision to carry out the construction of our own infrastructure or the contracting of logistics services, storage spaces or the management of shipments.
The management of shipments in an online store will depend on various factors ranging from the customer profile, the type of product that we sell, the volume of the shipment, to the stage of business that we are going through, so the choice of any Shipping strategy will not be a static determination over time, we will have to make all the necessary adjustments according to the dynamics that our online business acquires.