Pallet wide containers are rare non-standard containers with different dimensions compared to standard intermodal containers. These are common on the European continent because they are specially designed to accommodate more euro pallets. How is this container different? Why was it designed? Read to discover.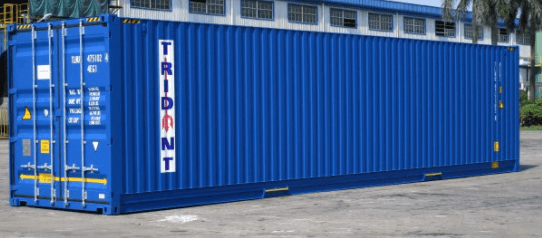 Know the pallet wide container
To understand a pallet-width container, you first need to understand the pallet and its size.
Simply put, a pallet is a flat wooden structure. Heavy objects are placed on these pallets to facilitate forklift movement and transportation. Pallet size is regulated by ISO to ensure global uniformity. However, some areas have certain pallet sizes.
The most common pallet size is 40 "x 48" (that is, the American pallet size).
The size of the European pallet is about 40 "x 47" (that is, the Euro pallet).
The Australian palette is about 46 "x46".
Pallet-width containers are designed to load more European pallets within the container. Therefore, the dimensions of the standard ISO container have been adjusted to make it wider. The internal width is 4 inches wider to accommodate variations in pallet size.
Due to their different sizes, a standard 40-foot ISO container can carry 25 euros of pallets, while a 40-foot pallet-wide container can carry 30 pallets.
Like standard containers, pallet-width containers are made of steel, but the floor is made of wooden boards for added durability and coefficient of friction.
Read : How to Protect Steel Shipping Container From Rust ?
Why use a pallet wide container?
Because these containers are more efficient than standard containers (especially for European pallets). Due to its size, it can accommodate more euro pallets. The pallets are also securely attached to these containers to prevent unnecessary movement. This reduces the risk of cargo damage due to loading in transit or accidental cargo slippage.
Financially, we reduce operational and distribution costs by more than 15% by reducing shipping times, product packaging costs, and avoiding losses from accidental damage.
Pallet wide container: dimensions
Containers are created according to the standard size set by the International Organization for Standardization (ISO). In most cases, pallet-width containers are 20 feet high, but can be standard 40-foot or 45-foot high cube containers (depending on your requirements). The internal measurements and capacities of these containers are as follows:
| | | |
| --- | --- | --- |
| Measure | 20ft PW | 40ft PW |
| Internal length | 5.89 m / 19.3 ft | 12.03 m / 39.5 ft |
| Internal width | 2.44 m / 8 ft | 2.44 m / 8 ft |
| Internal height | 2.39 m / 7.8 ft | 2.39 m / 7.8 ft |
| Tare weight | 2,400 kg / 5,291 lbs | 3,800 kg / 8,377 lbs |
| Payload capacity | 28,080 kg / 61,906 lbs | 29,740 kg / 65,565 lbs |
| Cubic capacity | 34.3 m3 / 1,213 cu ft | 79.9 m3 / 2,786 cu ft |
Pallet-width containers are ideal for transporting all types of cargo (like marine containers), but also for transporting goods such as euro pallets, raw materials, machines and tools.
How much can it fit in a 40-foot pallet-wide container in terms of volume?
760 medium-sized flower pots.
Or 610 standard package boxes.
Or the contents of a two-four-bedroom home
However, to simplify things with standard size, the European pallet size (1.2mx 0.8m) allows you to fit 30 pallet stacks in a 40-foot-high cubic container. For an American pallet (1.01mx 1.21m), it fits in a stack of 25 pallets.